"Education and knowledge are the way to change society for the better. I want to make a difference and help to give young people the same fantastic opportunities I had", says alumna Monica Getz Silfverschöld, a new board member for the Lund University Foundation.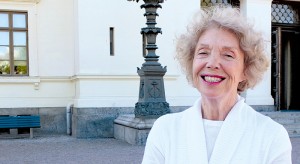 Lund University Foundation aims to strengthen Lund University's ties with the USA and American alumni. Monica Getz Silfverschöld divides her time between Lund and the US and is particularly interested in the work on scholarships.
This elegant lady is a fount of university history and memories of Lund. She is a direct descendent of Nicolas Silfverschöld, who was appointed Professor of Law in 1667 at the newly founded Lund University and who held the speech of thanks at the inauguration on 28 January 1668.
Monica Getz Silfverschöld also studied law in Lund, but after just a few months she got a scholarship to go to the US. By then she had already danced in the variety show ballet with Cilla Ingvar and Adrienne Lombard in the main assembly hall in Universitetshuset – which jeopardised her good conduct grade in her secondary school leaving certificate.
"I stepped in for the ballet because one of the girls had fallen ill. However, my mother took up the case and it went to court – we won in the supreme court and I passed in the end."
Monica Getz Silfverschöld's mother was Mary von Rosen, a psychologist and the first school welfare officer at Katedralskolan in Lund. Her brother was Carl Gustaf von Rosen, the founder of the Ethiopian air force, an emergency pilot in Africa for many years and a pioneer of Swedish aviation. Monica's father Nils was a fearless idealist, peace activist and early critic of Nazism in Germany, doctor and Olympic gold medallist in gymnastics.
"I am burdened and blessed to come from a family of enthusiasts who are eager to help those in difficulty", she says.
Driven by the same spirit, the young Monica Getz Silfverschöld wanted to become a diplomat. The best place to train for that was at Georgetown University in Washington, DC. She switched from the University of Mexico where she had studied Portuguese, which would turn out to be very useful later in life. In Washington she met her future husband – famous jazz musician Stan Getz, who was very successful, especially in Brazil where the couple lived for several years.
"Stan didn't speak a word of Portuguese and the Brazilian musicians didn't speak English, so my language skills came in very useful."
With the world of jazz came encounters with alcohol and drug problems which also affected Stan Getz. Monica Getz Silfverschöld talks earnestly about the hunt for the best doctors, the best treatment methods – and she began to study medical subjects linked to addiction problems. The hunt ended in Minnesota at the Hazelden Foundation where the now well-tried Minnesota model of combating alcohol and drug dependency originated, based on the AA's 12 step programme.
"We took it to Sweden and launched it here", she explains. Her brother Peter, who was a psychiatrist, also helped in this work.
Convincing the Swedish National Board of Health and Welfare and other medical sceptics of the good of the Minnesota model was hard work. Birgitta Crawfoord became a good partner and friend for Monica Getz Silfverschöld, having herself been helped by the Minnesota model and having founded the treatment centre Nämndemansgården in Blentarp. Stan Getz remained sober for ten years, but fell back into addiction, which created difficulties in their marriage.
Over all these years, Monica Getz Silfverschöld has kept several homes, including her flat on Kävlingevägen in Lund, to which she has been faithful since childhood. In California she has founded the Coalition for Family Justice, a foundation for the families of addicts who have difficulty with relationships and especially with contact with society and with the incomprehensible and often ignorant inefficiency of the legal system.
"I have seen many apparently impossible situations in my life, but have also been blessed to be able to use both my good and my painful experiences to help others. I have helped both children and adults to improve their lives and even gain a life full of happiness and meaning."
Now that Monica Getz Silfverschöld is back in Lund and on her way to a meeting of the Lund University Foundation board, she feels enthusiastic to be able to help.
"I want to do this by creating interest in our scholarships. It's humbling to be able to open the doors to knowledge for all young people who want to contribute to a better world regardless of national and financial restrictions."
Text and photo: Maria Lindh