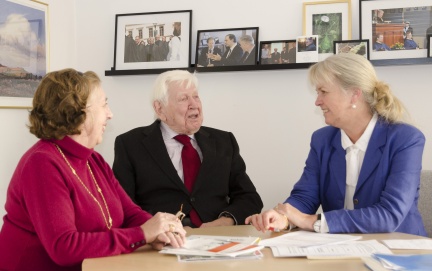 Margaretha Grind Bundy, chair of the foundation, and Göran Bundy talking to Gunilla Westergren-Thorsson, Dean of the Faculty of Medicine at Lund University.
Lund University's research in cardiology and neurology has received a major donation from siblings Eva and Göran Bundy, who have chosen to start a foundation to support research in two important areas of medical research.
SEK 10 million has already been donated to the Siblings Eva and Göran Bundy Foundation for Medical Research at Lund University and a further SEK 60 million, mainly in the form of shares, has been bequeathed to the foundation, making these the largest private donations to the University in modern times.
Göran Bundy has a law degree from Lund University and has worked as a diplomat in many of the world's troubled regions. Now retired, he has returned to his childhood Skåne. "Both I and my sister are childless and we decided early on that we wanted our money to help improve the lives of coming generations. Our family has been affected by both cardiological and neurological diseases and these areas are therefore close to our hearts", said Göran Bundy. "Lund University means a lot to me and as a former student I am pleased to be able to give something to the University and to Skåne in this way", continued Göran Bundy.
Per Eriksson, Vice-Chancellor of Lund University, is very pleased and grateful for the donation: "Gifts from private individuals mean an enormous amount to our research. Research today requires a lot of resources to achieve results, and we need funding from many different quarters to conduct world-class research. In the US, for instance, there is a long tradition of alumni donating money to their alma mater, i.e. their former university. We are working to encourage this at Lund University too, and the Bundys are a role model. Giving to the University is a unique opportunity for private individuals to directly support research in important fields."
The Siblings Eva and Göran Bundy Foundation for Medical Research at Lund University has already announced a first round of grants for young postdoctoral researchers in neurology and cardiology at Lund University.
Would you like to make a donation to research at Lund University? All contributions, both large and small, are needed and welcome! With your help, we can create more research breakthroughs for a better world.