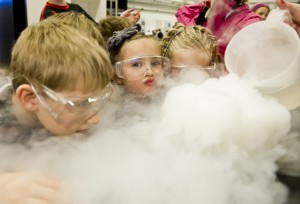 Vattenhallen Science Centre LTH at Lund University has received a development grant of SEK 4 million from the Färs & Frosta Savings Bank Foundation. The money will be the first contribution to a planned extension, which will more than triple the size of the popular attraction. Färs & Frosta's grant is earmarked for high-tech audiovisual technology for an entirely new lecture theatre and a new exhibition about the digestive system where visitors will be able to walk through a giant intestine.
"We are very grateful and will make an immediate start on the planning of the extension to Vattenhallen", said Lund University Vice-Chancellor Per Eriksson.
Currently, Vattenhallen has almost 40 000 visitors a year from across southern Sweden. The centre has reached capacity and cannot expand further in its current premises. The grant from the Färs & Frosta Savings Bank Foundation enables the planning of a 2000 m2 extension to start. The development grant of SEK 4 million will pay for furnishings and high-tech audiovisual equipment in a new lecture theatre that will form an important part of the extension. The theatre will be used for school classes and for science shows and interactive experiences using modern technology.
"Our wish is that other companies and organisations will want to get involved in our work to spread knowledge and awaken curiosity about science and education in an exciting way", said Monica Almqvist, director of the centre and senior lecturer at Lund University.
The Vattenhallen extension will be planned during the autumn and is expected to be completed in time for Lund University's 350th anniversary celebrations. When it is complete, Vattenhallen will have a total area of 2900 m2 and will be able to receive 100 000 visitors a year. The new centre will also include a café and a themed playground designed as an outdoor prolongation of Vattenhallen's experiments.
"The Färs & Frosta Savings Bank Foundation has long had a relationship with the University and has been involved in a number of successful projects. Our involvement in the extension of Vattenhallen is a further step in our investments in young people and our desire to encourage children and young people to take an interest in science. An extension will provide great opportunities for this, not only for Lund and its surroundings, but for the whole region", said Kristina Liljerup, Chair of the Färs & Frosta Savings Bank Foundation.
An important part of Vattenhallen's activities is promoting interest in engineering and science degrees. The Färs & Frosta Savings Bank Foundation has therefore also decided together with Vattenhallen to initiate a schools project for secondary school pupils in the field of activity of Färs & Frosta Savings Bank as part of the grant.
The development grant from Färs & Frosta Savings Bank Foundation will also partly finance "The Digestive System", a new permanent exhibition at Vattenhallen. Visitors will be able to walk through a model of the digestive system. The aim is to give the visitors a spectacular experience of the path food takes through the body and an understanding of how the food we eat affects us.
"We are very pleased that our work at Lund University's Development Office has led to this donation", said project manager Eric Hamilton.
Text: Tobias Åkerman